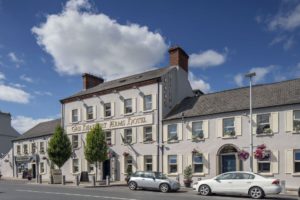 Day One
Arrive in the Boyne Valley! The Home of Halloween.
Check in to your accommodation providers and wrap up warm for the evening ahead.
The first stop we would recommend, depending on the direction of travel would be Millmount Museum in Drogheda for "Killmount 2- Murder on the Mound". Let ghostly figures regale you with tales of murder and mayhem.
Suitable for age 12 years and older, this event takes place at 7pm on October 13th, 14th, 20th, 21st, 27th and 28th.
Then take the trip to Fordstown for one of the Spirits of Meath's most popular event- Farmaphobia!
With 5 terrifying haunts spread over 100 Acres of fear, Ireland's BIGGEST Halloween event is not to be missed. Dare to visit clown town, the zombie morgue, purge night, mama's murder maize, and more.
This event is strictly over 13's and 13- to 16-year-olds must be accompanied by an adult.
Spend the night in Kells and enjoy accommodation in the Headfort Arms Hotel.
You will find lots of great places to eat including The Keltic Bar, The Bective Restaurant or Park Rí Destination stop and food court.
Day tWO
After a hearty Boyne Valley breakfast take some time to discover Kells Courthouse Tourism and Cultural Hub as well as Kells Monastic sites .
On your way to the next event, enjoy a leisurely lunch in Navan or Trim at the many restaurants available in both towns.
In the late afternoon, head over to Beewise Nature Trail for their Forest of Doom event (Friday 28th to Sunday the 30th) which begins at 5pm. Enjoy an evening of fun around Beewise Nature trail- and be prepared to be scared!
Alternatively, make you way over to Tayto Park for their Tayto Park After Dark event (Friday 28th to Sunday the 30th) which begins at 6.30pm. Enjoy night rides on the Cú Chulainn Coaster, Flight School, Dino Dash, Endeavour, Windstar, Power Surge, Air Race, and the Rotator.
Spend the night in a nearby hotel like City North Hotel, The Glenside Hotel, Dunboyne Castle Hotel or The Village Hotel in Bettystown. You will find a full list of all our hotel special offers on the website here.
Day three
Wake up refreshed and revitalised after a great night's sleep. After breakfast, make your way to Boyne Boats and enjoy a Púca Paddle Halloween mythology experience with Ross. As you learn about mythology and the origins of Halloween that are part of this magical place, prepare to be charmed by the gentle sounds of nature within an enchanting landscape of native trees, wild plants and flowers, birds and wildlife that mirror onto the water.
To finish your trip, why not pay a visit to Trim or Athboy to partake in the Púca Festival Activities. Enjoy haunted walking tours, treasure hunts, and games galore! Find out more here.
There is so much happening in the Boyne Valley this year for Halloween that you may need to stay for the week. You can view a full list of our accommodation options here. Be sure to bring your sense of adventure and help us celebrate the Spirits of Meath!
To keep up to date with all our news and special offers just sign up to our newsletter here.